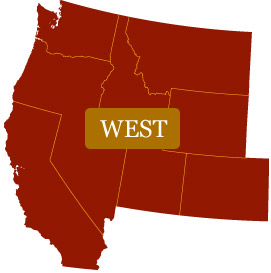 If you've found our site by searching for the Best Liberal Arts Colleges in the West, we hope the information found here will help you make the best decision possible for your college education. At first glance, the name "liberal arts college" makes people think of sculpture, painting, and music. While the best liberal arts colleges do usually offer excellent fine arts programs, the term actually refers to a particular style of education. Liberal arts colleges emphasize small class sizes, writing, critical thinking, and a well-rounded, holistic education model. For intellectual students looking for a comfortable, personalized college experience, they are an excellent option.
Details of Best Liberal Arts Colleges in the West
More and more liberal arts colleges have been springing up, and the best in the West are also some of the oldest in the West.
Willamette University in Salem, Oregon was founded in 1837, and has been offering students a top notch education for decades. Admissions are selective and tuition exceeds $35,000 a year, but the school offers merit and need-based scholarships.
Whitman College in Walla Walla, Washington is the most selective liberal arts college in the Pacific Northwest. Most students have SAT scores above the 90th percentile. Tuition is around $37,000 a year, and the school offers merit scholarships in extracurricular activities ranging from music to debate.
Pamona College in Claremont, California is also highly selective. Almost all Claremont students were in the top 10% of their graduating classes, and tuition is around $41,000 a year. The school offers substantial merit and need-based scholarships, including a particularly generous Presidential Scholarship worth over $10,000 a year. Pamona College also offers a liberal arts feel with the advantages of a large school by teaming up with four other small colleges in the area. Students can take classes at any of the five "Claremont Colleges."
George Fox University in Newberg, Oregon is also considered to be one of the Best Liberal Arts Colleges in the West. The school charges $29,900 a year in tuition, and the average financial aid package is $24,701. George Fox is a more religious school than the others listed here, so it's an excellent option for students looking to develop their spiritual side. George Fox is also less selective than the others mentioned here. Many scholarships are available based on religious affiliation. The average student earned a 3.6 GPA in high school.
Colorado College in Colorado Springs, Colorado is a unique option for students in the market for one of the Best Liberal Arts Colleges in the West. The college, which charges $41,332 per year in tuition, runs on a block schedule. Students take one class at a time, with each class meeting every day for four straight weeks. This is a great option for students who like to really focus on one subject at a time.
As you can see, there are a lot of great options to choose from. If you're looking for the best liberal arts colleges in the West, you'd be well served to start with the list above.