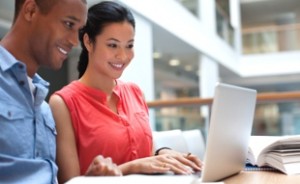 Every day we are asked to interpret information about politics, religion, natural science and the arts. The ability to analyze, synthesize and utilize this information in a cohesive manner can be challenging. An educational course in the liberal arts pushes students to think critically across disciplines and communicate effectively to realize solutions to problems locally and around the world as our economies and politics become increasingly intertwined.
Today, students have educational opportunities in traditional settings at colleges and universities with residential facilities and classrooms, but increasingly, busy students who work to pay for their courses are finding online degree programs a viable option. These programs come with different names: distance learning, e-learning and online education. What they have in common is that the bulk of the learning is done outside of a classroom. Lectures are broadcast over a computer network and students watch them in real time or in their free time. Class work is delivered remotely and discussion may take the form of an online chat or with webcams. Some online programs require some time in-person with a student advisor.
Ten of the Top Online Liberal Arts Colleges
The ten schools listed below in alphabetical order offer online degrees in the liberal arts. As you start to explore Online Liberal Arts Colleges, ask yourself about your learning style. If you are a student who loves interacting face to face and tends to procrastinate, Online Liberal Arts Colleges may not be for you. But if you are disciplined and know how to manage your time well, online programs could be your best bet. The way to find the program that fits your needs is to contact the schools directly and ask questions of staff, students and faculty.
BAKER UNIVERSITY
Baldwin City, Kansas
Private/Non-profit/Accredited
Degrees: M.A. Liberal Arts Courses include: Creative Arts, Teaching and Learning
Tuition: $205.00 per credit
Financial Aid: Need Based
COLUMBIA COLLEGE
Columbia, Missouri
Private/Non-profit/Accredited
Degrees: B.A. General Studies Courses include: Humanities/Natural Sciences
Tuition: $240.00 per credit
Financial Aid: Need Based
PENN STATE COLLEGE OF LIBERAL ARTS – WORLD CAMPUS
University Park, Pennsylvania
Public/Accredited
Degrees: B.A. Liberal Arts Courses include: Ethics, Anthropology, World Music
Tuition: $504.00 per credit
Financial Aid: Need Based/Scholarships
HARVARD EXTENSION
Cambridge, Massachusetts
Private/Non-profit/Accredited
Degrees: B.A. Liberal Arts Courses include: Journalism, Economics, Philosophy
Tuition: $995.00 per credit
Financial Aid: Need Based
MESSIAH COLLEGE
Mechanicsburg, Pennsylvania
Private/Non-profit/Religious affiliation (Christian)/Accredited
Degrees: B.A. Liberal Arts Courses include: Psychology, Bible Study
Tuition: $435.00 per credit
Financial Aid: Not available for online courses
SAINT LEO UNIVERSITY
Saint Leo, Florida
Private/Non-profit/Accredited/Religious affiliation (Catholic)
Degrees: B.A. Liberal Studies Courses include: Bio Ethics, Life Science, Literature
Tuition: $470.00 per credit
Financial Aid: Need Based/Scholarship
UNIVERSITY OF MASSACHUSETTS ONLINE
Amherst, Massachusetts
Public/Accredited
Degrees: B.A. Liberal Arts Courses include: Political Science, Philosophy
Tuition: $1100.00 per 3 credit course
Financial Aid: Need based
UNIVERSITY OF PHOENIX
Phoenix, Arizona
Private/For Profit/Accredited
Degrees: B.A. Liberal Arts Courses include: Literature, Biology, American History
Tuition: $546.00 per credit
Financial aid: Need based and federal grants
WIDENER UNIVERSITY
Chester, Pennsylvania
Private/Non-profit
Degrees: B.A. Liberal Studies Courses include: Psychology, Criminal Justice
Tuition: $36,000 per year
Financial Aid: Need Based